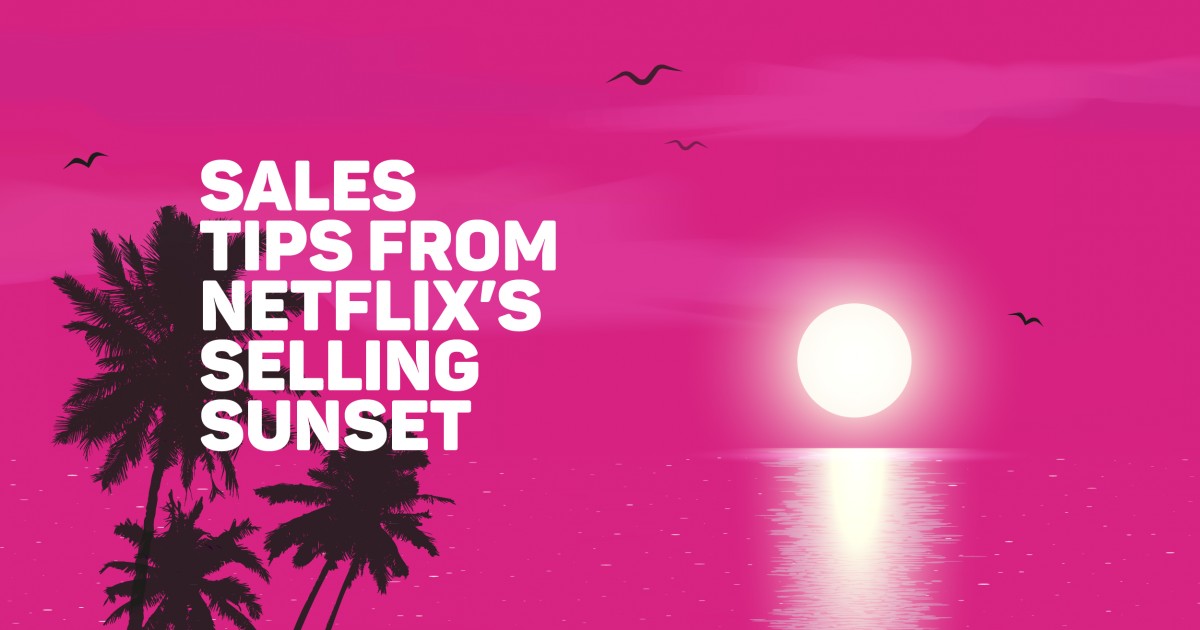 Anyone with a Netflix subscription who hasn't seen Selling Sunset, block out a couple of days to binge and thank us later! The popular Netflix show, now in its third season, follows real estate agents at the Oppenheim Group in Los Angeles as they sell multi-million-dollar mansions to a host of wealthy clients.
Not only do you get a look at how the other half lives – usually modern, architecturally stunning, open-plan, sleek interiors with closets as big as a London studio apartment, paired with stunning views and of course multi-car garages, swimming pools and gyms! But it also comes with the added drama of a mostly female office all fighting to list and sell as much as possible and earn that commission. Think 'Keeping up with the Kardashians' meets 'The Only Way is Essex'!
Although many of the Selling Sunset team's tactics wouldn't transfer well to the UK, like Christine's "Burgers and Botox" event, we thought we'd compare a few of the Selling Sunset sales techniques to our own, focusing on the ones we believe can work best for selling in the UK right now:
The 'Look'
With a huge focus on outside space and the stunning views that come with living in the Hollywood Hills, this has never been more relevant to the UK. Although many UK homes (especially those in London) may not have large outdoor spaces or a swimming pool, the demand post-lockdown for outside space is at an all-time high. So, no matter how small your space, whether you have a garden or a balcony, make sure it looks its best (not neglected), and consider giving it TLC/pre-sale refurbishment so that it is incorporated into the rest of the property. This is a big selling point for many potential buyers in the current climate.
If you live in a riverside or dock facing property, which benefits from a stunning water view, or a property which has an amazing London skyline, or views over the SE16 parks or landmarks (or a combination if you are really lucky!), be sure to highlight this feature and ensure not to obscure the views in any way by distracting from it with overpowering furniture, or narrowing it with curtains/blinds which can't be fully drawn back to reveal the view.
The team at Oppenheim Group obviously know what they're doing when it comes to selling luxury property, and one of the things they focus on is how important the photography and marketing is. We couldn't agree more, which is why we only use professional photography to show each property we list in the best light and advertise on the top portals, as well as social media and marketing emails to our database of prospective buyers.
Home Staging
Home staging has always been huge in the US, often with vendors completely renovating the entire property at considerable expense, changing the layout of rooms and purchasing or hiring furniture to dress it for viewers. This might seem overkill for homeowners in the UK, however, making the most of the property and showing it in its best light is essential, especially now that more buyers are looking to virtual viewings before making their mind up to physically view.
It is highly advised that prior to listing your property, any maintenance works are taken care of, you declutter as much as you can, ensure the property is 'neutral' if/where needed and any TLC is taken care of along with a fresh coat of paint (if required). Your agent will (or at least should!) advise if any redecorating/TLC/decluttering is required to make the property more attractive to the majority of buyers and ultimately sell faster and/or at its full potential – for example, investing in a modern kitchen or bathroom could add thousands more to your property's value than it costs if done correctly.
Although it's not as common in the UK, we ourselves have staged homes before (generally those which are vacant) this has more often than not help achieve higher offers for them and/or shorten the selling time. In a world of short attention spans and instant gratification, first impressions count! You need to make buyers want/aspire to own your property and live the lifestyle your property perceives.
Getting the Price Right
We say this all the time, but if you don't believe us, Selling Sunset shows evidence of the dangers of overpricing a property, with a recurring $75m mansion which has remained unsold and should be on the market for around $25m less. The same goes for the UK, as although demand is currently the highest it's been in 10 years, (according to Rightmove) if your property has been overvalued by an agent or overpriced on the listing, you are likely to struggle to sell and will likely be advised to reduce after a few weeks/months of marketing, losing out on the very precious 'initial interest period' which is a key time to attracting interest and finding the buyer on many property sales.
Buyers are able to be more savvy than ever, with information available at the touch of a button, it is obvious to many potential buyers when a property has been overpriced, so like the team on Selling Sunset say, it's better to list for a good price and get the interest and offers flowing rather than at a price where you have to keep dropping to find a buyer, wasting time and most likely money. You will ultimately decide and agree with your agent what you'd be happy to accept and what you need for your moving goals, but our advice is to appoint and trust a local, reputable agent who has specific knowledge and a proven record of your property's area. Listen to what they have to say, take their advice and consider any offers you may receive if it means you are able to achieve your onward plans.
For more information about the current property market in the UK (we won't pretend to know what's going on in LA LA Land!), get in touch and we can discuss your individual situation and offer the best advice for your circumstances: 0207 231 0002 welcome@living-london.net