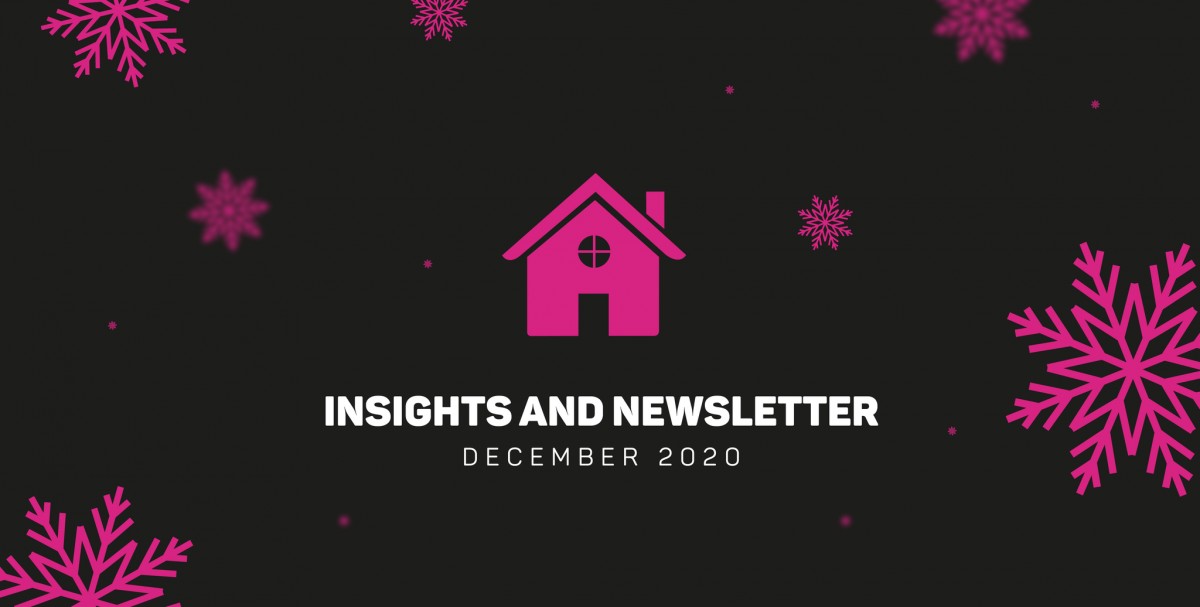 Well, what a year! It certainly has been an unprecedented and challenging one.
Our thoughts go out to everyone and we hope that that things start to improve for those in need of better times as we turn the page on 2020.
On a property note, it has been a rollercoaster, but for us it's broadly been a positive year, especially on the sales side of things.
We have had to adapt and evolve to the ever changing 'new normal' as best we can, something which we have and continue to try to master.
We have been nominated and won a number of awards, which we are very proud of, as are we of our current 5/5 Star rating on the independent review platform Feefo.
Once again, we would like to give great thanks to all of our loyal clients and hardworking team who have, and continue, to support us.
Sales Market;
The year started on a positive note as it appeared Brexit and Political uncertainty had started to show signs of clarity, which gave many of those who had been holding off acting, many for some time, the confidence to get on with their property plans/moves. Only for it to be abruptly stopped in its tracks by Covid-19.
A period of uncertainty followed, but when it was clear that the property market could legally continue, albeit in a 'new normal' fashion, things carried on where they left off, but with even more vigour.
Already active buyers, for various reasons, made moving an even higher priority than pre Covid-19, plus a new wave of buyers entered the market, influenced by the pandemic.
Momentum from buyers and sellers increased for reasons such as wanting more space, some or more outside space, dedicated spaces to work from home, easier accessibility to friends and family and space to breath and live. For others, it was just a case of getting a place of their own… somewhere they can call home, put their own stamp on things and be in control of.
To further add fuel to the fire, the government announced a Stamp Duty Holiday (SDH) which meant the vast majority of buyers would save a considerable chunk of money, which they could utilise on improvements, or just meant that they could afford a little more.
The above, plus other factors such as a cheap access to borrowing, meant that the sales market has, and continues to be, busy, from both buyers and sellers. Something we expect to continue in 2021 as people reflect, review and act so to get the things they want from their homes, which for many means a move is necessary.
The annual traditional slowing of the market (as we approach Christmas) has still been witnessed, but due to the overwhelming desire of many to move and the want to beat the SDH deadline, the market has (up until now) remained active.
It is widely reported that due to delays in the conveyancing process, many agreed sales may have already missed the SDH deadline. Whilst we are sure this will be the case for many, if you do have proactive solicitors on BOTH sides of the chain, who confirm, pre instruction, they have the capacity and ability to complete before the SDH ends, sales should still be able to be agreed up until the end of January 2021 with a fighting chance of the SDH deadline being beaten (provided no considerable unforeseen circumstances with regards to restrictions or the actual sale). We'd advise instructing solicitors and speaking to mortgage companies at the earliest points possible so to help speed things along, as well as ensuring your solicitor is willing to give regular updates to you and the other side.
Many have resigned themselves to the fact that the SDH deadline won't be beaten, but are continuing with their searches/purchases regardless, as although the saving would be a bonus, the desire to move outweighs the alternative.
Our belief is, that regardless of all the 'other factors', 2020 has been a year of reflection for many and the overwhelming desire of people to be in a home that provides a life that is better for them, will outweigh any noise.
Rental Market;
Things have been a little more challenging in the rental market.
The pandemic has created employment uncertainty, and so rather than moving, many tenants decided to stay where they were/are for now, many on shorter more flexible terms until a time when they have more certainty,… or, unfortunately meant they have had to move out due to the loss of employment and/or lack of need to be in a zone 2 London postcode (where they pay a premium rent) due to the increasing trend of working from home.
The general outward trend, of people losing jobs and moving out, has outweighed the number of people moving inward for employment or education/training, especially with the increased restrictions in travel to the UK from overseas students and workers as well as the increasing trend of working from home.
As such, the number of available properties has increased, and whilst the demand from tenants is still there, the ratio has been outweighed, which has resulted in much more competition, and as a result falling rents and increasing void periods. Additional supply has also come to the market due to the deterioration of the short term let market.
Although still a reasonably low percentage, Landlords had already started to exit the market (opting to sell) pre Covid-19, due to a number of reasons such as taxation changes and increased legislation, but the challenging rental market in 2020 has further encouraged many 'on the fence' landlords that now may be the time to sell, especially with the sales market being in a reasonably strong position comparatively.
Talks of changes to Capital Gains Tax in 2021 may also have played a role in exiting, although nothing concrete has yet been announced.
The SDH did encourage some investors/landlords who were looking to increase their portfolios, but from our experience it has been more selling than buying.
The SE16 marketplace is fortunately a very popular one for tenants and so demand has been reasonably strong, but due to the increase in supply, it has been key for us to ensure our Landlords expectations are managed.
Now is the time to do all you can to have a happy, financially sound tenant(s) in situ at a rental level that broadly works for all parties, rather than a time to look to maximise rent, as this may lead to unwelcome considerable void periods.
Predictions for 2021;
It's looking as if the cloud of 2020 will hang over at least a few months of 2021, but hopefully with the vaccine roll out we will start to gradually return to something which is a combination of the 'new' and 'old normal', hopefully the positives from both with the negatives left to one side.
A Brexit deal appears to have been reached, but as is always the case with these kinds of things, probably only a handful of people know exactly what that means yet and fewer what the outcome of such will turn out to be, it certainly won't be clear for at least a few months.
More legislation is set to be introduced to the rental sector and a number of factors such as changes to Capital Gains Tax and an additional Stamp Duty surcharge for Non-UK resident buyers could have an impact on the sales market.
Our belief is, that regardless of all the 'other factors', 2020 has been a year of reflection for many and the overwhelming desire of people to be in a home that provides a life that is better for them, will outweigh any noise.
If you would like to discuss any of the above, or if you would like to find out more about buying, selling, letting or renting, please do reach out to us on 0207 231 0002, welcome@living-london.net or click on the below instant valuation tool to give you a rough idea of your properties current value.
Click here for an instant online valuation.
Note; The above is just a snapshot of our experiences in the market we cover.