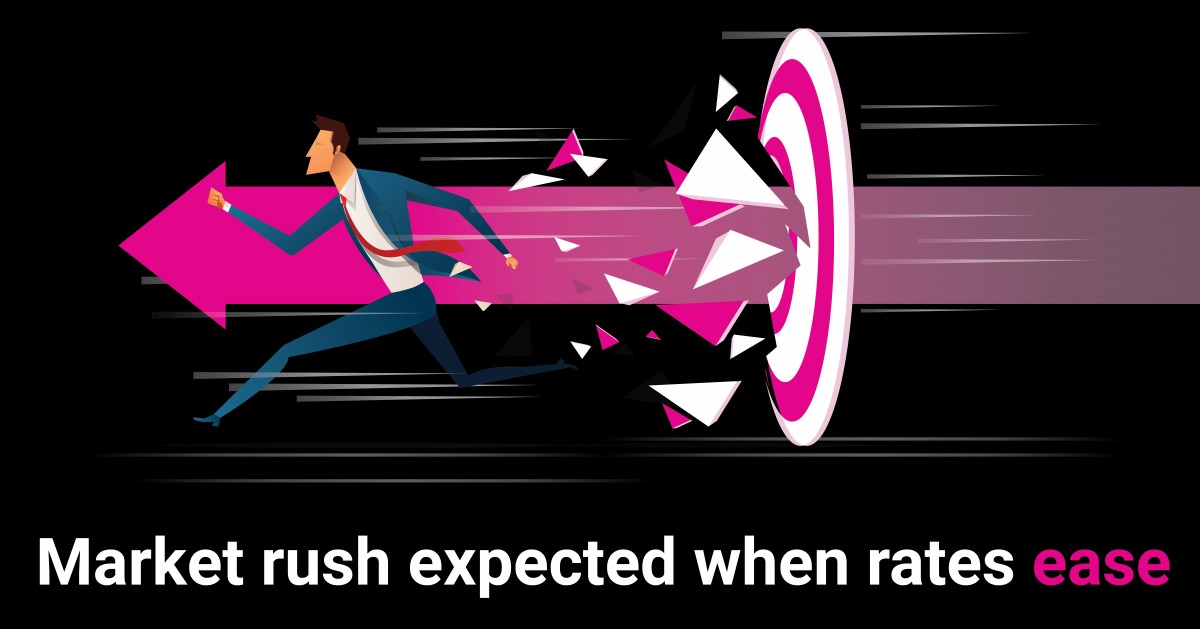 The Bank of England's latest 0.25% base rate rise - the fourteenth consecutive increase – has interesting resulted in better mortgage rates for those looking to remortgage and those looking to buy. The majority of high street lenders had already priced in this latest increase and combined with favourable inflation stats, we've seen these lenders competing for business over the last few weeks, cutting the rates offered. Halifax – the country's biggest mortgage lender announced a cut which brought its average five-year fixed rate down from 6.1% to 5.39% while other lenders similarly followed suit.
The announcement of July's inflation figures which, according to the Office for National Statistics showed a fall to 6.8% from 7.9% in June, offered encouragement to the mortgage market; As it looks like we should be on track for hitting Rishi Sunak's target of reducing inflation to 5% by the end of the year.
In our view
Here at Living in London, we believe that when the Bank of England stabilises the Base Rate, we're anticipating the high street lenders will start to bring down the rates they're offering still further, which should, in turn, reinvigorate the market.
When the mortgage rates began to fall in March and April of this year, we saw a big influx of buyers returning to market in good numbers and we had our busiest March on record.
So, when the rates do start to come down this time, we anticipate this rush to return to market to be even greater due to significantly more pent-up demand from first time buyers and investors alike.

We have already started to see a few savvy investors returning to market over the past 6 weeks which is always a good indicator on when a market is beginning to turn.
Avoid defaulting
Paula Higgins, Chief Executive of HomeOwners Alliance said: "Homeowners needing to remortgage are applying a "wait and see" approach with more borrowers taking out a tracker mortgage.
"A penalty-free tracker allows homeowners to take a holding position, from which they can switch and fix once the current cycle of interest rate hikes finally ends.
"Those who are waiting to see what happens though need to not fall foul of staggeringly high Standard Variable Rates.
"More lenders are charging in excess of 8 and 9% so we urge mortgage holders to check their mortgage deal to ensure they're not potentially paying thousands of pounds a year more than necessary. If they're on the SVR they need to switch quickly. And if their current mortgage term comes to an end in six months, start looking now to secure a rate and avoid defaulting onto the lender's SVR."
Earlier this month, principal lenders signed up to the Government's new Mortgage Charter which offers some degree of protection to borrowers.
All lenders have agreed:
Anyone worried about their mortgage repayments can contact their lender for help and guidance, without any impact on their credit file and we would encourage you to contact your bank who are there to help.
Support for customers who are up-to-date with payments to switch to a new mortgage deal at the end of their existing fixed rate deal without another affordability check.
Lenders will provide well-timed information to help customers plan ahead should their current rate be due to end.
Lenders will offer tailored support for anyone struggling and deploy highly trained staff to help customers. The right option will depend on the customer's circumstances. This could mean extending their term to reduce their payments, offering a switch to interest only payments, but also a range of other options like a temporary payment deferral or part interest-part repayment. The right option will depend on the customer's circumstances.
You can read more about the new Mortgage Charter here and more help and advice is available from the Homeowners Alliance website at Mortgage Rate Rises: your options - particularly if your fixed rate is coming to an end and the latest Best Mortgage rates.
So, if you are thinking about selling, now would be a good time to start the wheels in motion with an in-person valuation of your property to discuss the price and any potential work needed before the marketing.
Please note that the figures we've used in our blog won't be applicable to all purchasers.
For more information on the market or to book a valuation, please contact the Living in London Sales Team on 0203 869 0288.