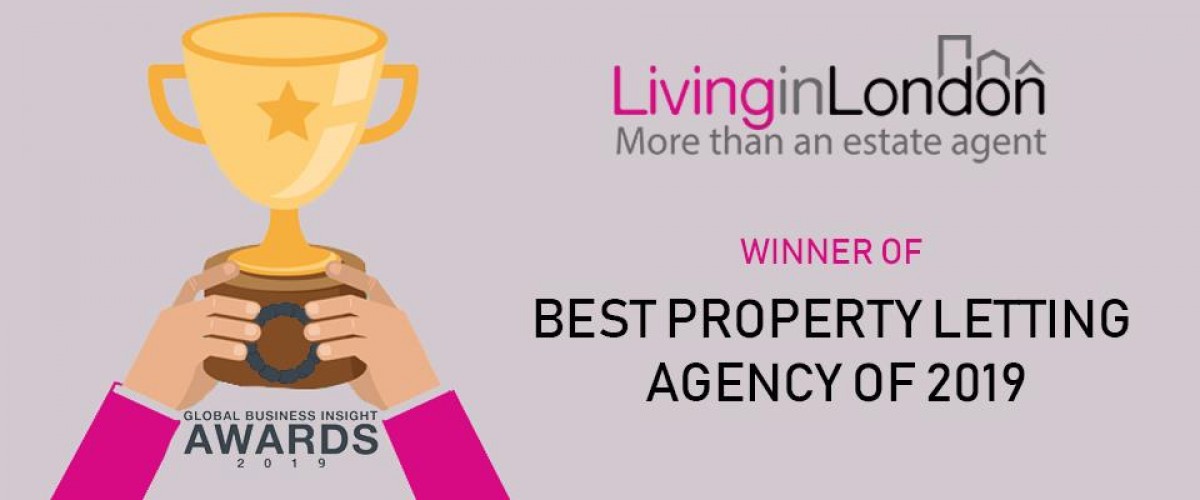 After being awarded the Best for Sales in South East London in December 2018, we're delighted to announce that we've also won the 'Best Property Letting Agency of 2019' award!
Agents, investors and small businesses gathered at the 2018/2019 Global Business Insight Awards to celebrate business leadership, investment and sector success, with some of the biggest industry names in attendance.
Votes are gathered all-year round via a number of digital channels and then evaluated by an experienced team. The categories included: Business, Investment, Finance, Professional Services, Women in Business and Finances, Mergers and Acquisitions and Technology – each with their own sub section.
Living in London was awarded the 'Best Property Letting Agency Award' after being recognised for our customer service, local area expertise and bespoke approach to each client, which has allowed us to maintain lasting relationships in our community.
Another award win for Living in London
Awards should matter to a business, as they help to highlight and identity those that are performing well in their respective industry.
At Living in London, we strive to exceed the expectations of our clients. Winning this award, as well as the others we have accumulated over recent years, showcases our unrivalled commitment to customer service and putting our clients first.
On the move in 2019?
If you're looking to buy, sell, rent or let a home in Surrey Quays, Bermondsey, Canada Water and other South East London areas, then it's time to get in touch with Living in London.
As you can see, we take customer service very seriously and this is reflected in the awards we've won in recent months.
For people making property decisions this year, the expert knowledge of a professional and dedicated agency will be hugely valuable.
Once again, the whole team at Living in London is excited to be recognised for our hard work and the effort we put into our services. Here's to a successful 2019!
For more information on the services we offer, get in touch with us on 020 7231 0002.
We also provide instant online valuations so you can see how much your property is worth on the current market.