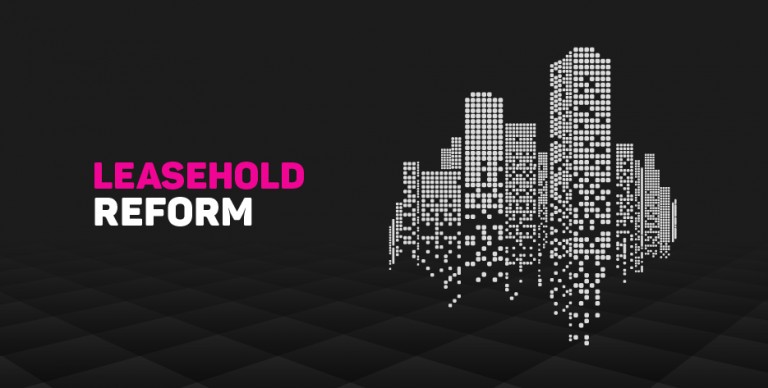 Touted as the 'Biggest change to property law in 40 years', but do the announced proposals to reform the leasehold system, made by the Housing Secretary Robert Jenrick on the 7th of January 2021, leave more questions than answers?
The announcement follows years of campaigning for leasehold reforms from organisations such as the National Leasehold Campaign (which was formed four years ago and now boasts over 20,000 members), who have also rallied behind the cladding scandal which came firmly into the spotlight following the Grenfell tragedy.
What is leasehold?
Leaseholds are generally associated with apartments/flats rather than houses and the basics surround who owns the land the property sits on.
A leasehold means that you just have a lease from the freeholder (sometimes called the landlord) to use the home (you own?!?) for a number of years…sounds very similar to renting!.... but it is a very common and accepted system, especially in larger towns and cities, and although buying a freehold is nearly always more advisable, the option for many simply is not there.
Whilst caution is needed when buying a leasehold, such as checking the years remaining on the lease, the service charge and ground rent annual costs, who the managing agents are, and if and what schedules of works are due, all things your solicitor should undertake on your behalf during any purchase, provided that all parties play with a straight bat, it shouldn't be something to put you off buying a property.
The leases are usually long term – often 99 or 125 years and as high as 999 years (often linked to owning a 'share of freehold').
Why the changes?
Issues arising from unfairly increasing ground rents (payment made by a holder of a leasehold property to the freeholder or superior leaseholder, typically on an annual basis) and expensive and complicated lease extensions and processes, that were not perhaps as clear and transparent as they should have been, meant that for many, owning a leasehold property wasn't/isn't quite as enjoyable an experience as it should be and for others, unfortunately, has meant they have found themselves in a nightmare.
Some leaseholders are in a position where they can't sell their property due to a short lease (below the 'marriage value' period) as mortgage lenders won't lend on such properties, and them not being able to extend the lease due to the costs of such, leaving them in a difficult position.
Further, freeholders can increase the amount of ground rent, if written into the lease, with little or no benefit seen to those faced with extra charges.
It can also lengthen and lead to increased costs when buying/selling the property.
What is a marriage value?
A marriage value applies to properties where the lease length has dipped below 80 years.
After such, extending your lease length becomes a more expensive proposal, it also makes the property more difficult to finance (re-mortgage), with banks knowing that with the increasing cost of a lease renewal, clients are under more financial pressure.
In recent years, further problems have occurred surrounding mortgage lenders. They are becoming more aware of the growing problems with increasing ground rents and are less likely to lend on properties with high ground rents, or clauses within the lease that state the ground rent can increase substantially (some clauses for example say the ground rent can double every X years). This has made it more difficult for current leaseholders to re-mortgage or sell the property.
Further, when a mortgage product comes to an end, lenders have become more attuned with problems on leasehold properties, so are far more scrutinising when reviewing applications. This can result in the leaseholder (owner) having to renew with the same mortgage provider but on a worse rate, so to avoid starting a new application as other lenders may indicate the ground rent is too high for them to approve a mortgage application.
With little in the way of regulations for freeholders, the leaseholder is tied contractually to the lease agreement despite outdated, often regarded corrupt, clauses.
What are the proposed changes?
Below are some of the headline proposals/changes:
• Reform the process used to calculate the cost of extending a lease or buying the freehold
• Abolish marriage value
• Introduce a separate method for low-value properties
• Give leaseholders of flats and houses the same right to extend their lease agreements "as often as they wish, at zero ground rent, for a term of 990 years"
• Enable leaseholders, where they already have a long lease, to buy out the ground rent without having to extend the lease term.
When will these changes come to fruition?
As with any reform of this magnitude, it will take time to cross the t's and dot the i's, and at present the government have a very full agenda to attend to, so a full conclusion is unlikely to be reached in the short term.
That being said, it is clear the government are keen to implement change in this arena and have clearly set out that they are committed to do so.
For the vast majority, the sooner the better, but just to know it's on the cards will give many owners and buyers of leasehold property some encouragement, further than that, to know that a change is afoot is another huge positive and a step forward for the property market as a whole.
What does all this mean?
Well essentially it means leasehold property will become easier, cheaper (in sense of lease extensions etc) and more attractive to own.
The cost incurred by owners will fall (unless we are missing something), protecting the tenant (owner).
It will also (hopefully) allow for a more enjoyable, less expensive tenure and one which could result in owning a much more saleable asset when the time comes to sell.
This is a positive change in the right direction that has been campaigned for a number of years and we look forward to further updates on this and advising our clients how the changes will affect their property and what they have to do to benefit from the reforms.
So why 'more questions than answers'?
Well, as mentioned, exactly what and when is still a big uncertainty. As is how the 'calculation of lease extensions' will be determined, as properties often vary greatly within a single development, never mind in different developments, towns and cities! In the more immediate term, what do you do now if you are a leaseholder in the middle of extending your lease?!?
We unfortunately don't have all the answers, but have provided some links below which may help you to find further answers, or if nothing else, hopefully provide you with more knowledge so you can make more of an educated guess before making any plans.
We would expect that freeholders are aware of the intended changes, and that they would be more reasonable in their negotiations over lease extensions, but perhaps that is a little naïve. If you are in the middle of a lease extension (as the tenant) and you can afford to wait for an outcome, then that may be the way to go, especially if you have spoken to your freeholder and they aren't willing to re-open any negotiations (in your favour).
But if you need to sell in the near future and can't face the prospect of staying in the property for an extended period (or your circumstances won't allow this), then unfortunately you may be better to move ahead with plans, but of course, seeking more advice from a more legally qualified leasehold expert is the way to go.
The other question surrounds the freeholder, if they can no longer collect ground rents, where does that leave them and the freehold industry?! Do they have a 'human rights' claim? The asset they purchased, with the intention of making a return, included (and may be heavily reliant on) collecting ground rents.
Well done Mr Jenrick for getting this moving, but we need more specifics please and as quick as you can.
If you're considering selling, letting or buying a property and would like to speak to us about leasehold vs freehold, what to look out for or more information on how to sell a leasehold property, get in touch for a no obligation chat; 0207 231 0002, welcome@living-london.net
Useful links;
https://nationalleaseholdcampaign.org/
https://www.keystonelaw.com/keynotes/government-announces-new-leasehold-reforms-but-do-they-raise-more-questions-than-answers
https://www.bbc.co.uk/news/business-55569094
https://www.gov.uk/government/news/government-reforms-make-it-easier-and-cheaper-for-leaseholders-to-buy-their-homes
https://www.landlordtoday.co.uk/breaking-news/2021/1/leasehold-reforms-should-be-good-news-for-landlords
https://www.alep.org.uk/article/838/alep-welcomes-announcement-of-government-reforms-to-leasehold-sector-ndash-but-questions-what-change-will-look-like-in-practice