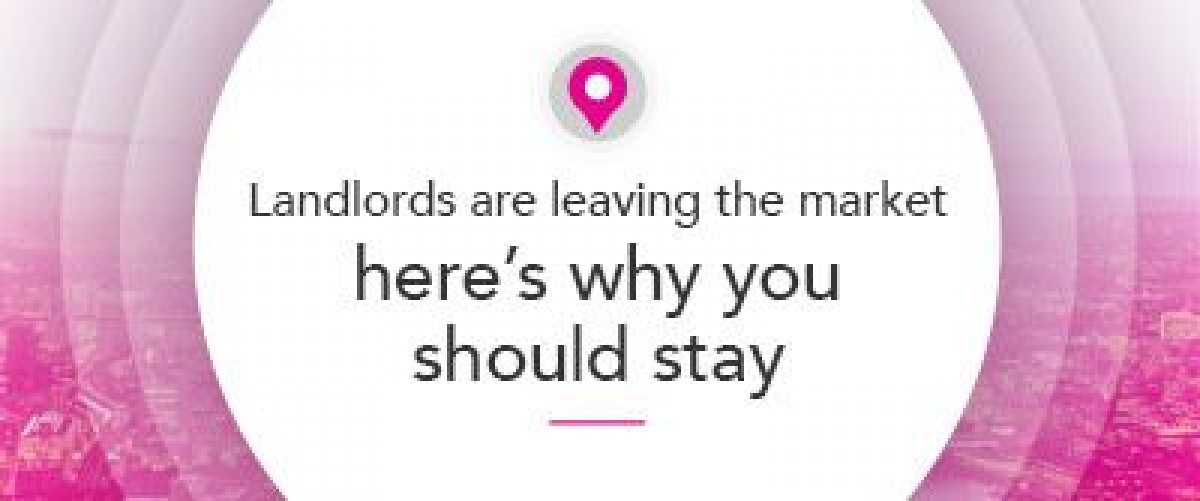 If further evidence was needed that landlords are fed up of the recent bashing they've received from the government (principally in terms of higher stamp duty when purchasing an additional property and the phasing out of mortgage interest tax relief, the latest figures from ARLA Propertymark have confirmed it.

In December last year, four landlords per average letting agency branch quit the market and sold up – with an even higher figure in London. The number of landlords in the capital selling their properties hit six per branch during December.

The trade body's Private Rented Sector report also found that the supply of rental property across England was down 4% year-on-year.

Why are they leaving?

As we alluded to above landlords have in recent years faced a raft of new regulation and legislation designed to make buy-to-let investment less attractive.

This hasn't only included an extra 3% stamp duty surcharge on second and buy-to-let homes and the slow withdrawal of tax relief, but also changes to the Wear and Tear Allowance, new energy efficiency regulations and tighter restrictions on buy-to-let lending.

As letting agents operating in London, we fully understand the challenges and issues being faced by landlords and sympathise with those who feel they have no choice but to leave the market.

And with the government seemingly remaining intent on punishing landlords further – despite the rapid growth of the private rented sector and an increase in renting across all demographics – there may be fears that things won't get any easier.

Those thinking of entering the market may, too, be put off if they believe there will be more difficulties than rewards.

However, with the right type of rental homes in the right kind of market, landlords can still achieve good yields and make a decent return on their investment.

Demand high in up-and-coming areas

Here at Living in London, we operate in a number of areas which enjoy high demand from tenants – whether it's young professionals opting for Canada Water or Surrey Quays as an ideal base for their daily commute to Canary Wharf or The City, or creatives and foodies looking to enjoy the breweries, food markets, art galleries and design studios of Bermondsey and London Bridge.

In all our locations, there is plenty to recommend to tenants – from bars and restaurants, to green space, riverside walks, great pubs and independent coffee shops.

As a landlord operating in these areas, you should have little trouble filling your rental homes with good, reliable tenants.

What's more, with property here being cheaper than other parts of London, your yields won't be squeezed as as much as they would be in more expensive areas of the capital.

To help you get the most from your tenancies, you need to partner with an experienced, reliable local letting agent, who can help you keep on top of all new and existing regulation and legislation, occupy your home with good tenants and manage the whole process throughout to keep issues and stress to a minimum.

A long-term reliable asset class

Property has often been considered the go-to asset class for many investors looking to make solid, reliable long-term returns.

One of the key reasons for this is due to high tenant demand which means landlords can fill their properties quickly and keep void periods to a minimum.

What's more, all the recent evidence points to demand for rental homes continuing to rise. It's been widely reported that there is a growing number of middle-aged and family renters who are helping to swell the private rented sector to a greater size than ever before.

The most recent English Housing Survey confirms that nearly 20% of households now rent privately, making it the second largest form of tenure in the country. In London, meanwhile, private renting is the biggest form of tenure, with nearly 30% of households living in privately rented accommodation.

And this is only set to grow in the coming years, with predictions that approximately 25% of households will be renting by 2021.

Meanwhile, for those with a firm eye on capital gains, the continued resilience of London house prices is a cause for optimism. Despite the issues caused by chronic Brexit uncertainty, prices in the capital rose by 3.4% in February, according to Rightmove's latest house price report.

Working with property experts is essential

As our agency was created by three landlords who all own property in London, we have a special understanding of what it takes to ensure a smooth tenancy, as well as the importance of tailoring our services directly to landlords. We're also well aware of the challenges landlords face and well-equipped to help you overcome these obstacles and thrive in the current market.

Our property management team takes care of the tenancy throughout, while we have a team of experts to ensure your property is occupied with the right tenants from the start.

We also offer high-profile marketing to make sure your homes get the exposure they deserve, while our Canada Water office has an unrivalled location inside Canada Water tube station, ensuring that the number of eyes on your home (via our state-of-the-art interactive touchscreen display and dynamic window cards) is huge.

For more information on the services we offer, get in touch with us on: 020 7231 0002.

We also provide instant online valuations so you can see how much your property is worth on the current market.