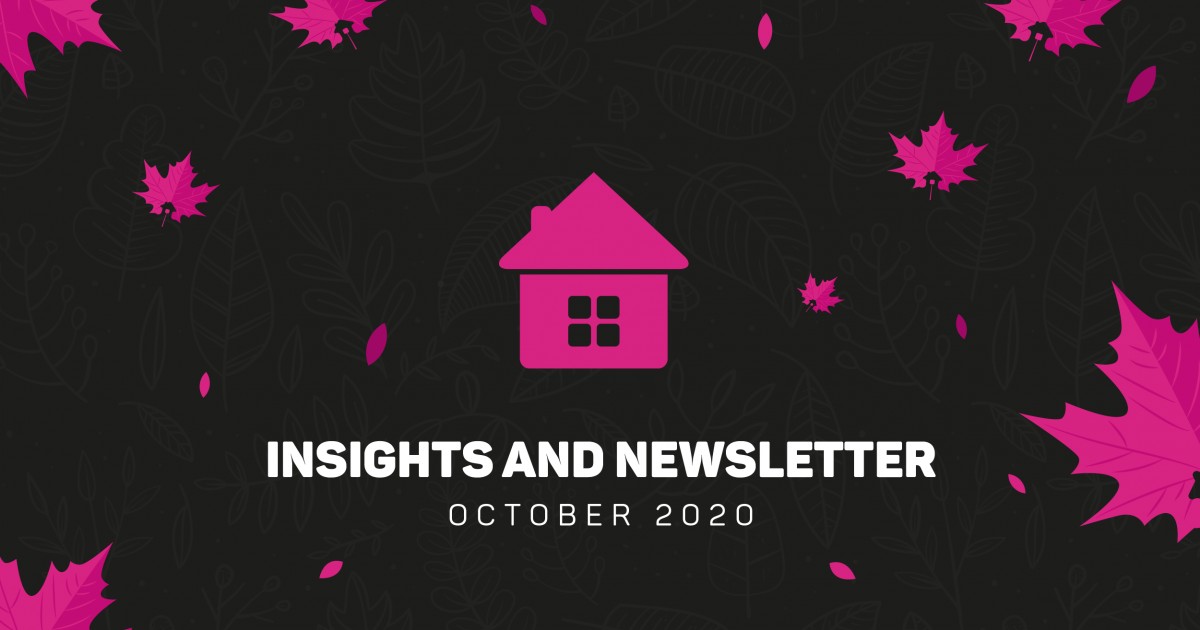 Following our last update; our experience of how the stamp duty holiday has impacted the sales market in SE16, we thought we'd give another update as we leave the summer months and head into autumn, traditionally a time when we see buyers and sellers push to be moved before Christmas, or, decide to put things on hold until the New Year. Typically (as much as the sales and lettings market can be 'typical'), activity in the sales market starts to fall as the weather becomes colder and the nights draw in.
This will, we are sure, still play a role but in addition, buyers and sellers have the current lockdown restrictions (with it looking likely restrictions may increase and be common place for some time to come) and the Stamp Duty Holiday deadline (March 2021) to consider.
If you remember, our prediction was that demand from both buyers (to buy) and sellers (to sell) would remain strong for longer than is traditionally the case, and we may still see activity remaining high in December and January, so to beat the Stamp Duty Holiday. It will be interesting to watch what the government does as we approach the deadline, as if they believe the 'holiday' has played a positive role in economic activity, they may consider extending it or offer other incentives.
September was a busy month for us in all aspects of the business and we are pleased to have added to the team; a warm welcome back to Ola, as well as the new acquisition of Ghazal, both bringing a wealth of experience to the sales team.
In terms of sales, the market was (and still is) busy with demand from buyers showing no signs of slowing down. A common theme surrounding reasons for moving, include our clients being able to WFH (work from home), which the government are indicating should still be the case where possible. Buyers and sellers are planning for their 'new normal' which has made many reassess what they need and want from their home, resulting in a move.
Typically space, more space, an extra room for an office and outside space is what we are hearing, but for others it is just a case of getting onto the market so they feel they have more control over where they live.
Other common reasons for moving are; 'to be able to get more for my money' or being closer to family/friends/green space, all of which more often than not, leads to a move out of London or to a part of London which offers some of their 'must have's', which for many, Canada Water/Rotherhithe/SE16 offers.
For the same reasons as above, properties coming to market are still considerable, and as such, supply and demand is starting to favour the buyer.
We are also noticing an increasing trend of more of the unsold/current 'on the market' stock being reduced week by week, likely due to the initial overvaluing we have talked about in previous insights, as well perhaps as supply and demand starts to balance out.
As we always champion, it is important to get the selling price right from the start so to get the most out of the initial interest and, if you can, be flexible with the price you are willing to accept (within reason) so to facilitate a sale which allows you to progress with your onward plans, rather than holding out for an asking price you might not achieve as your property is overvalued or on the market with too much comparable competition.
Uncertainty around the 'second wave' and further restrictions are likely to have an impact on the property market over the next few months, but what impact is yet to be seen.
It may increase the desire of many to move asap, with the increased likelihood that restrictions/lockdowns are probably going to be a feature for at least the short/medium term, or, it may mean people hold tight as they think they have missed the boat to be moved before another lockdown or they are waiting to see what happens with the changes to furlough/their employment circumstances. It is likely it will be a mixture of both.
The looming stamp duty holiday deadline (which will come round quicker than we all can imagine) is also still a factor.
On a separate point, we are speaking to potential buyers and sellers about the conveyancing process, which is reportedly experiencing an overall backlog of transactions due to the spike in property sales. If your plan is to be moved in 2020 or before the Stamp Duty Holiday, extra time for the conveyancing process is advised.
Pick a reputable, trusted solicitor (perhaps one your agent has worked with and recommends) and ensure you discuss with them a timeline for the process and ask for it in writing, whilst this offers little guarantee, you are better having this discussion before instructing rather than two months down the line.
We would advise that if you're planning on buying or selling in the near future to start the process asap, price correctly (if selling), listen to an experienced local agent who has a proven record/knowledge in the area, and use a reputable, trusted solicitor.
If you're considering buying or selling and would like a no obligation chat about your personal circumstances and the property market, get in touch: 0207 231 0002 welcome@living-london.net
Some further reading which may be of interest:
https://www.estateagenttoday.co.uk/breaking-news/2020/9/no-cuts-properties-twice-as-likely-to-sell-if-asking-price-doesnt-change
https://www.thesun.co.uk/money/12702286/get-home-on-market-september-26-beat-stamp-duty