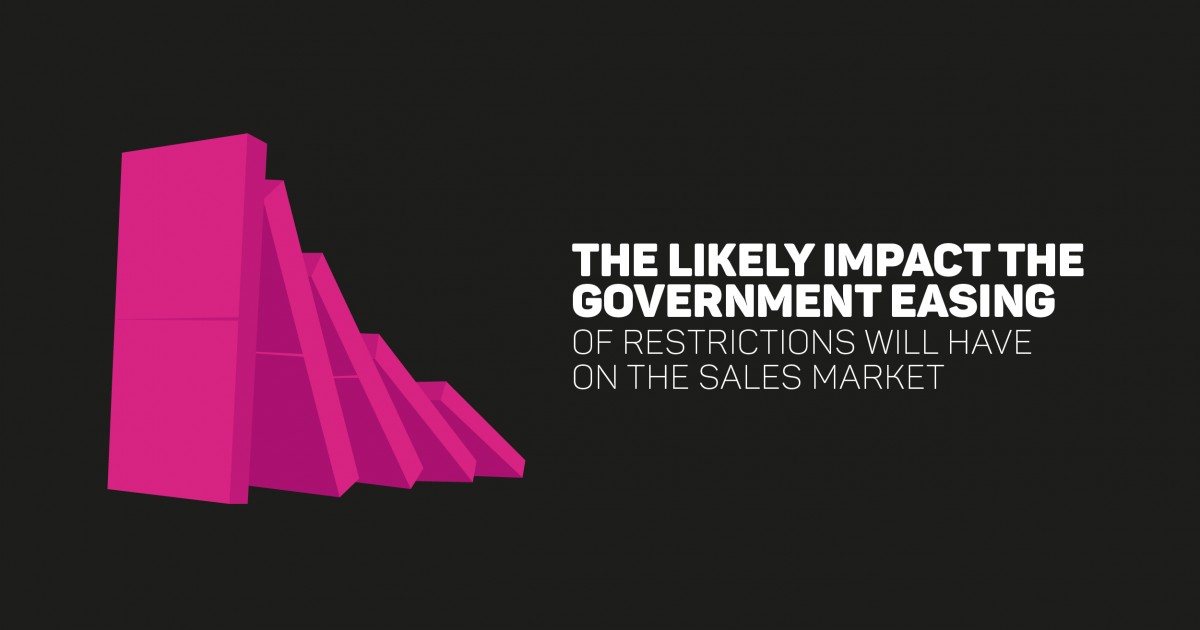 The government announced last week (13th May 2020) that the sales and lettings market in England could get moving again by relaxing some of the lockdown restrictions which have made the property sales market all but grind to a halt.
We have a quick look at how this already has, and will likely continue to impact us and our clients.
The main change that will allow agents to start returning to some kind of normality is around viewings; which can now take place provided guidelines are followed, as well as the pipeline of 'sale agreed' transactions now being able to complete (where all parties are willing and it is safe to do so).
'Sale Agreed'
Questions from many of the buyers and sellers, who we are in the process of progressing a sale with (sale which was agreed pre lockdown and now heading towards exchange/completion), include:
'Do I now still want to move?'
and,
'Have my property requirements now changed?'
These questions are coming from both buyers and sellers, for whom fortunately most are still motivated to continue to completion, often now more so now than before, but this may not be the case for all.
Some buyers are also concerned that they may be about to complete on a property which may be worth less in the coming months/year. This has led to some renegotiating (or at least an attempt to) of the agreed sale price.
The common consensus from industry experts is that prices are likely to fall this year and recover next; the degree to which this happens varies depending on the articles you read. For us, in the specific area and properties we are dealing with, we are more confident that the market and prices will remain stable/strong, as was the case witnessed pre lockdown from the 'Boris bounce', and whilst sellers (as always) need to get the selling price right, they certainly shouldn't be worried about sales values tumbling, it might just take a little time for the ship to steady.
As such, we are advising our sellers that unless a price reduction works for you rather than losing a buyer, to hold out for the pre-lockdown price agreed, or at the very least within a % or two of it.
If you do have to consider a drop in the agreed price, only do so if it still allows you to do whatever you had been planning to. If not, and time is less of an importance, the sales market will (in our opinion) present buyers in the near future at prices similar to that of pre-lockdown.
For example, in regard to still being able to do what was planned, see if any reduction on your agreed sale price can be absorbed in the onward chain by re-negotiating on your purchase etc.
Some buyers (who may also be sellers) are likely to re-consider and possibly change the order of their priorities, with some now making outside space and accessibility to parks, golf courses, the seaside more towards the top of their list, as well as proximity to friends and relatives, rather than the distance the property is from a tube station to get to work.
Of course, there are also some buyers and sellers who have had considerable changes in their life/ circumstances and as such, moving has now got to be cancelled or postponed. OR, on the flip side of this, for many, the past few months have allowed more time for reflection than they may ever have had before, and as such, 'moving home' (be it buying their first property, upscaling, downsizing, moving to out of cities, or indeed into them) may now be something they really push to do sooner rather than later, regardless of considering the financial implications of such move, which will increase market activity. We have personally spoken to buyers who have now added outside space as a must, or a second bedroom to use as an office. We have also had sellers (some of whom weren't intending of selling pre-lockdown) contact us to indicate that they feel now is the time to move out of London and into counties such as Essex and Kent.
Market Activity
There is likely to be a bit of a rush to the market for those who had planned to buy or sell and are still keen, if not more keen to do so, as well as new buyers and sellers starting to make enquiries, but as always there will be those who want to sit back and wait and digest from afar until there is more certainty.
Jobs are less secure now for many, especially with many companies being able to fall back on 'furloughing'. The question arises; will these companies retain all of the furloughed staff once the government assistance ends? With the extension on furloughing announced by the government, we are only likely to get a true picture later in the year.
The new way of working for many has made individuals and companies realise that there is an alternative to the office based '9-5', and actually, the new way is broadly more welcome than people had thought/expected.
With this new way of working, it may mean that for many industries and individuals there are unfortunately no roles for them in the new world. When and how the dust settles on this will give a clearer idea of how the sales market will react in the medium term, but people still want to move for various different reasons, good or bad.
2020 started very strong for us an agency on the sales side, with sales agreed considerably up on previous years.
This was widely considered a result of pent up demand, from all the uncertainty surrounding Brexit, and a general confidence felt in the market along with low interest rates. Just as the market was accelerating and with more buyers, as well as sellers, set to join the market, everything came to a dramatic halt (as a result of the Coronavirus).
During the lockdown, unfortunately some sales were lost with buyers pulling out, but this number (for us) was fortunately low. New sellers coming to the market dried up, which was expected considering viewings were not able to take place, and those that were already on the market (selling) either remained so, or temporarily withdrew.
Buyer enquiries fell, although many of our investors, as well as a trickle of new buyers, were in contact indicating that they are still active and wanted to be kept in touch with and informed of any new properties or if property prices fell. Likely as they were opportunistically hoping to pick up some below market value properties.
Since the announcement on the 13th May, we have seen a considerable spike in both buyer and seller enquiries (as well as from lettings applicants and landlords). As mentioned earlier, those who realised or re-confirmed their desire to move are keen to get going and push forward.
We have sent many buyers 'virtual viewing' videos and we are qualifying buyers even more than we perhaps would normally; checking finance is in place, ensuring they know the exact location of the property as well as the sizes of the rooms etc., as well as answering any questions they may have which will either help them keep the property on their 'to view' list, or not. Whilst we still want to agree sales, the safety of all our staff, clients and the general public is more of a priority to us at this time, hence why we are still following a 'remote working' strategy for staff.
We have already lined up a number of physical viewings and received interest/offers to add to the offers received during lockdown, which are subject to viewings.
Further Considerations
There are many different factors which will play keys roles in the sales market and where it goes; levels of unemployment, willingness of banks to lend, their lending requirements, and the general performance of the economy, but ultimately peoples desires to move have always played an equally important key role in the activity of the market and with what we are all currently going through, this is likely to continue to be the case, perhaps more so now than ever. People often only react/act when they are forced to.
Conclusion
We are already experiencing a spike in both buyer and seller activity, but it is likely that it will take a number of weeks/months for this to fully filter through to offers and sales being agreed. Buyers are likely to dip their toes in rather than dive in head first, but once confidence is returned to the market and the increased mortgage enquiry activity reaches fruition, with lenders wanting to lend again, we are confident there will be a further bounce in the sales market which will carry through from the Boris Bounce.
We hope this gives a small insight into what we have found. As mentioned, this is our experience in the area and properties we deal with, this may be a different picture for many others, especially in other parts of the country.
If you are thinking of buying or selling (or indeed renting or letting) and have any questions, or would like to get an idea of what your property is currently worth, please do reach out to us and we will advise best we can.
Click here to get started with an instant online valuation of your property.