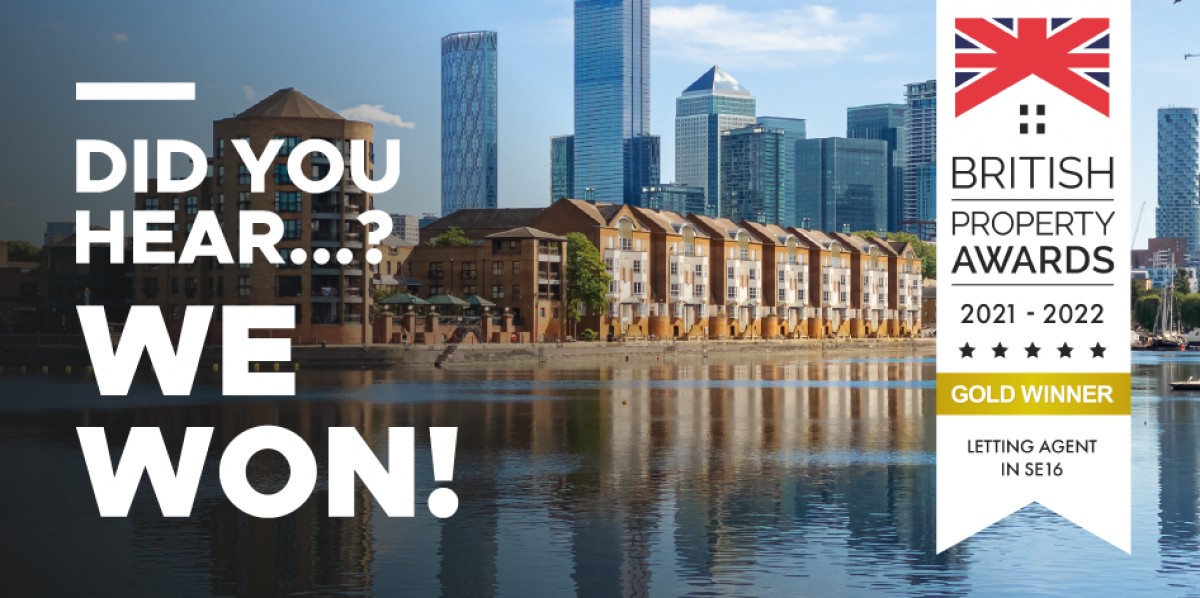 Just call us the prospectors because we've struck gold again! We are thrilled to announce our latest accolade after winning the Gold Letting Agent in SE16 award for the second year running at the British Property Awards 2021-2022.
The British Property Awards are one of the most inclusive estate agency awards providers as they do not charge to enter. This has enabled their award to be structured in a manner that ensures maximum participation, on average judging over 90% of agents that meet their minimum criteria on a local level. The team personally mystery shops every estate agent against a set of 25 criteria to obtain a balanced overview of their customer service levels. The judging criteria is so to ensure that agents have been rigorously and fairly judged.
Robert McLean from the British Property Awards had this to say;
"Their team performed outstandingly throughout the extensive judging period, which focused on customer service levels. Living in London, Canada Water have now been shortlisted for a number of national awards which will be announced shortly. The British Property Awards provide agents throughout the UK with an invaluable opportunity to compare the service that they provide against the service provided by their local, regional and national competition. Agents who go that extra mile and provide outstanding levels of customer service are rewarded with our accolade, which acts as a beacon to highlight these attributes to their local marketplace."
We also caught up with Branch Manager at Living in London, Elizabeth Miller;
"After achieving a whopping 8 awards in 2021, we're thrilled to already have a number under our belt for 2022. We're always aiming to achieve higher at Living in London, whether that's a sale price on a property, our personal achievements or taking our customer service up a notch, so this year we're hoping to maximise our awards and continue to generate 5 star reviews from happy clients!"
Keep an eye out on social media or our Virtual Trophy Cabinet for more awards and more information on the current property market in and around SE16.
If you're thinking of selling or letting a property and want to use a reputed, 5-star rated, multi-award winning agent, get in touch: 0207 231 0002, welcome@living-london.net
Or get an instant online valuation here.